Pile of ScrapEp. 39: Business Must Continue
From adapting to COVID-19 regulations to watching commodity prices rise and fall, and even transitioning to a new administration, there's no doubt those of us in the recycling industry have had a tough year. However, as John says: business must continue. We know that in times like these, what the world needs most are leaders.
Watch this episode on YouTube here.
The Pile of Scrap Podcast is available on Apple Podcasts, Spotify, and Google Podcasts. Be sure to Subscribe, Rate, and Review Pile of Scrap.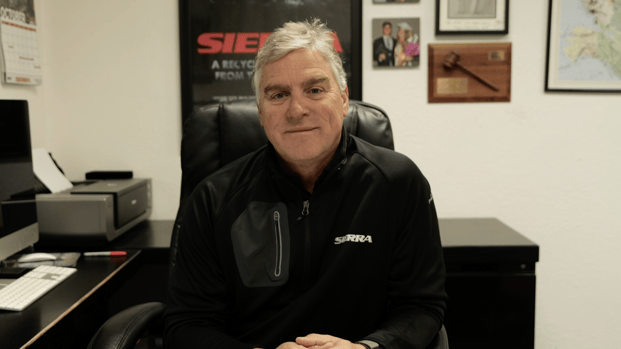 John Sacco
---
Transcription:
Introduction: The following is an original audio series from Sierra International Machinery Pile of Scrap with your host, John Sacco.
John Sacco: Welcome to an episode of Pile of Scrap. Today is going to be a solo version of Pile of Scrap. We're coming into the Thanksgiving holiday and, uh, the religious holidays coming up with Hanukkah and Christmas. And, uh, you know, it's been an interesting year, as we all know. We just finished having our election and it's been a little bit up in the air, but I think it's pretty clear now that we're going to have a new administration. And, I think the most important thing, the message that I want to get out is: the business of business must continue. Regardless of who is our President – regardless of that, we have to come to work every day and, as leaders in our industry and leaders of our businesses, that's what we have to do. We have to lead. And, that's the challenge that we have every day, regardless of who's President. And, I think, for me, on a personal level, um, I'm ready to face the new challenges. We know one thing. With the new administration coming in, and it has played out over the years… Look, I was Chairman of ISRI, as you know, and we've seen Republicans and we've seen Democrat presidents, and we know that under a Democratic leadership, there's going to be a little bit more regulation, which is something we can navigate and we have before. But, in order to navigate more regulation, we as recyclers have to make sure we're doing our part in our facilities, first and foremost. Are we being safe? Are we environmentally conscious? Are we clean? Are we doing our duty in our facilities every day to keep them clean, keep our stormwater up to date? Just to keep the presence that we don't look like junk dealers. Regardless if we're processing scrap metal, scrap paper, tire, plastic… It doesn't matter. If you're in the recycling industry, you owe it to your facility and to the industry to be as clean as possible, and that is incumbent upon us to do that. We will be visited by OSHA at some point. Every facility will be. The California – we have the DTSC… They come in… Department of Substance Toxic Control. They'll be in, visiting. And for that, we have to be prepared and I'm hoping everybody hears the message and remembers: be prepared because we will be having visits. And this upcoming year, one of the things that, um, you know, during this COVID times, you know, 20, 20 started off, okay. And then COVID started in March. We saw commodity prices, fall. Many of us in this industry didn't know where it was going, but then we saw a rebound and may and the pricing of a scrap metal, HMS and OCC and copper and aluminum, both came up. Some of us have struggled to have our volumes, uh, because the industry was shut down, but we were we've remained open. Recycling is an essential business. It is our materials that feed the consumers to create new materials, new steel, new copper products, new aluminum, new plastic product paper for packaging and for tissue papers and for paper towels, our industry supplies this country without our industry, you couldn't have the products mate. I've said this message many times throughout the year, but I want to reiterate it because as we go into the new year and as we go into new administrations in our States and our local governments, and on the federal level, we have to get odut there and continuously give our message to these people. They have to know why our industry is important and why when they make a burdensome regulation that it's going to hurt the very industry that is the leading industry of keeping this country clean, keeping the world clean of trash and pollution in our oceans and our rivers and all over it is our industry. That leads the way. I always say the recycling industry. We are the original environmentalist. We're the ones who take the product, bring it in, process it and give it new purpose. When we ship it to the consumers to create new products without us, this doesn't happen in this country and in the world, very important. You know, we navigate other issues. The PPP program is, has been changing and many of us in the recycling industry took the money for the loan or for, uh, forgiveness. And we have to navigate that. We will have to justify why we took these loans going forward, the rules and regulations keep changing. And I would imagine what the new administration, they are going to become, uh, you know, more burdensome and we have to keep forging ahead. And that's why I like to, you know, encourage dialogue amongst us in the recycling industries. What are we doing to communicate with each other, to help each other? Because our industry, you know, we might have competitors down the street, but somebody in New York might get something from somebody in California and we could help each other out from Florida to Washington and all over the great Midwest. We need to continue to communicate with everybody what we're doing and how we're doing our job to make our industry better. Our industry is a great industry. It's been generational businesses for fifth-generation businesses over this last year. I've had some great interviews with people for the pile of scrap a podcasts, and I've really enjoyed it. We've had a new edition with the extra time, which are fun stories that I've done, like driving a semi truck, uh, fly fishing in Wyoming with my brother and, and other things. We have some great things coming up in 2021, as long as we don't stay shut down for too long. I hope to get back out there to create more stories. Pile scrap has been a lot of fun for me on a personal level. And I enjoy doing this a lot. I enjoy being with the people and customers. I hear my office. I, you can't see this, but I have Wallace, great pictures of people who I've had great podcasts with over the year. And I look forward to 2021, no difference. Although we're going to be challenged, um, for the conventions going forward in 2021, we're not sure yet if the Israeli convention in San Diego is going to be held, we are hopeful. But with the surgeon, the virus, I doubt it's going to happen in begin, but we remain hopeful. Waste expo has already moved its convention out to June. So hopefully this virus gets, uh, approved and, and we can get our lives back. But during this holiday season, You know, I'd Just encourage everybody to stay safe and vigilant with the COVID. And that we do our part. I don't need to tell you to do that. But, um, you know, one thing that that kind of, that I want to share is the, the episodes during the last two years of pilot scrapped, the one episodes that are least viewed and least listened to are the ones on safety. And I wonder why that is. Do we feel we're a safe enough? Do we feel that we have safety down because safety, you never arrived. It's a journey. It's a journey. Every day, you come to all your facility, that your employees go home with all their hands and their eyes and all their body parts with no injuries. So maybe it's a message that some of us don't want to hear and we tune out to it, but let's not tune out, making sure our employees are safe. Let's not to tune out to what makes us a better operator. And it makes us look better with, you know, this recycling industry is one of the deadliest industries in the United States. And let's change that. Let's make our new year's resolution to make us all safer, to make our industry cleaner and make our industry more visible to those who need to understand what it is we do on a daily basis. So this is being recorded before Thanksgiving and probably be sent out afterwards. But, I want to thank everybody and all their support over the year, I'm watching and listening to Pile of Scrap. It's honor to do this. I really enjoy it. And I want to thank each and every one of you keep the faith, have a great holiday. God bless you all. And we'll see you soon.
Conclusion: This has been a Sierra International Machinery original audio series. Thanks for listening. Please share this podcast and make sure to subscribe.
---
The Pile of Scrap Podcast is available on Apple Podcasts, Spotify, and Google Play. The Podcast episode videos are available on YouTube. Be sure to Subscribe, Rate, and Review Pile of Scrap.