Pile of Scrap Ep. 55: JASON Project Winners
To recognize the importance that the next generation has on the state of our environment in the years to come, ISRI partners with Jason Learning and invites K-12 students across the nation to participate in The JASON Project to create a video and poster promoting the recycling industry. This year at the 2022 ISRI National Convention, Josephine Tarazzi, Mark Monteleone, Ani Nishanian, and Namira Meghla, the winners of The JASON Project, join Pile of Scrap to discuss the creation of their projects and what their futures look like in the years to come.
Watch this episode on YouTube here.
The Pile of Scrap Podcast is available on Apple Podcasts, Spotify, and Google Podcasts. Be sure to Subscribe, Rate, and Review Pile of Scrap.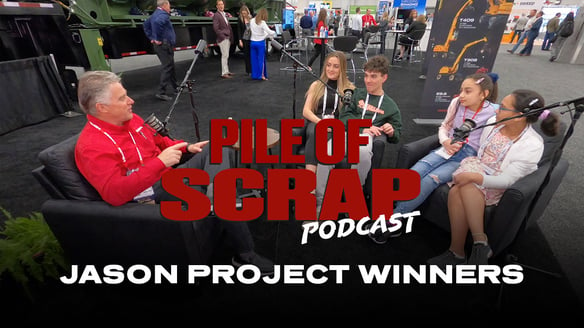 John Sacco, Josephine Tarazzi, Mark Monteleone, Ani Nishanian, Namira Meghla
---
Transcription
Coming Soon