Pile of Scrap Ep. 56: Just Making it Work with the Cohen Brothers
Although growing up in the industry and becoming a multi-generational yard owner is impressive, starting as a first-generation recycling facility deserves a whole new level of appreciation. Brothers John and Nicholas Cohen, owners of NJC Scrap Metal Recycling in Hempstead and Bay Shore, NY, join Pile of Scrap at the 2022 ISRI National Convention to discuss where they see themselves in five years, what it's been like to work with family, and how important it is to hold the value in doing "old school" business.
Watch this episode on YouTube here.
The Pile of Scrap Podcast is available on Apple Podcasts, Spotify, and Google Podcasts. Be sure to Subscribe, Rate, and Review Pile of Scrap.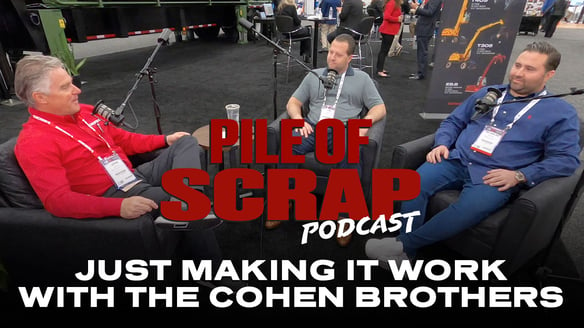 John Sacco, John Cohen, and Nicholas Cohen
---
Transcription
Coming Soon