Pile of Scrap Ep. 57: Generations of Success with the Krentzman Brothers
As their father slowly begins to let his sons take over the company, David and Michael Krentzman say they're more than ready to step up to the plate and follow the six generations of Krentzmans before them. The brothers join the podcast to discuss what it's like operating in rural Pennsylvania, the separation of duties they each have, and how they're continuously working to build core strength for their company to "get better every day."
Watch this episode on YouTube here.
The Pile of Scrap Podcast is available on Apple Podcasts, Spotify, and Google Podcasts. Be sure to Subscribe, Rate, and Review Pile of Scrap.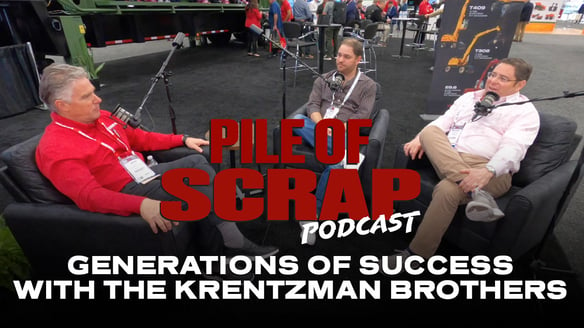 John Sacco, David Krentzman, and Michael Krentzman
---
Transcription
Coming Soon