Pile of Scrap Ep. 58: Return of the Two Buds
Stan Silva II and his son Stan Silva III (Little Bud) return to the podcast for a second time at the ISRI 2022 National Convention to talk to us about operations at the A&S Metals facility. Although he says it's not as fun as driving a truck, Little Bud has acquired more presence in the yard and taken over some day-to-day duties. With that said, Stan says he's almost ready to hand over the family business officially. The two discuss how growing up in the industry, taking care of equipment, and keeping good relationships with employees have significantly impacted their growth as a company.
Watch this episode on YouTube here.
The Pile of Scrap Podcast is available on Apple Podcasts, Spotify, and Google Podcasts. Be sure to Subscribe, Rate, and Review Pile of Scrap.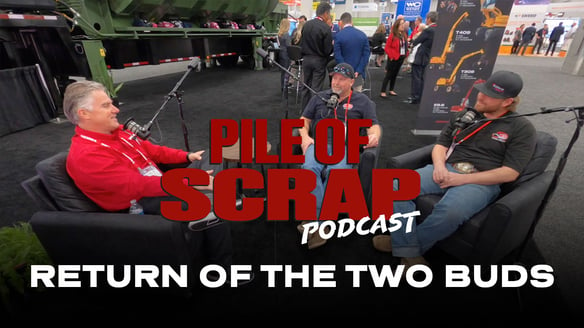 John Sacco, Stan Silva II, and Stan Silva III
---
Transcription
Coming Soon