Pile of Scrap Ep. 59: Small Beginnings, Big Results with Von Fahrenbruch
At ISRI's 2022 National Convention, John sits down with Von Fahrenbruch, owner of F&F Iron & Metals in Norton, Kansas. Having known each other for over 20 years through trade shows, John admits Von is the prime example of how to treat people and how to operate a facility. With Kansas as a major producer of agriculture and oil, Von tells us that processing metals from feedlots and farms and the oil and gas industries have considerably impacted his company's growth. However, although that has influenced business, Von says that desire and hard work are the main factors in making a company great.
Watch this episode on YouTube here.
The Pile of Scrap Podcast is available on Apple Podcasts, Spotify, and Google Podcasts. Be sure to Subscribe, Rate, and Review Pile of Scrap.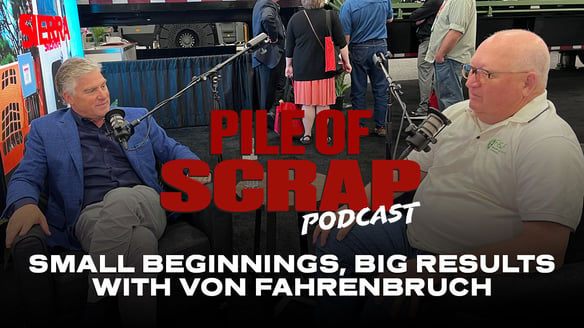 John Sacco and Von Fahrenbruch
---
Transcription
Coming Soon