Pile of Scrap Ep. 61: Acquiring Success with SA Recycling's Adams Brothers
The Adams brothers of SA Recycling joined the podcast to talk about what makes their company tick. With a whopping 125 yards across the nation, it's no surprise these guys know their way around the metal recycling business. As CEO of SA, George Adams is one of the most known faces in the recycling industry today, and his love for expansion has been a significant factor in what keeps the company growing. As Director, Terry Adams, on the other hand, handles much of the legal and environmental responsibilities that keep SA safe and prosperous. While these specific duties help SA flourish, the brothers agree that leadership, positive contribution, and staying proactive are what can overall keep a company in business.
Watch this episode on YouTube here.
The Pile of Scrap Podcast is available on Apple Podcasts, Spotify, and Google Podcasts. Be sure to Subscribe, Rate, and Review Pile of Scrap.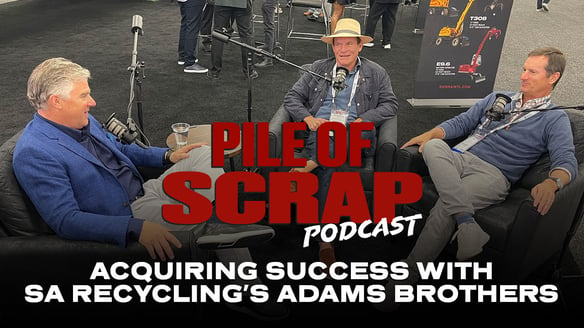 John Sacco, George Adams, and Terry Adams
---
Transcription
Coming Soon