Pile of Scrap Ep. 62: Recycling Warriors with the Foons
Mikey and Elliott Foon of Admiral Metals join the podcast with their father, Steven, to talk over some of the hottest topics in the industry right now. As recycling slowly makes its way out from the top-numbered deadliest of industries, the Foon brothers agree that we have nothing to thank other than initiating safety first daily. The Foons also discuss their duties at their yard, the importance of being recycling warriors, and spreading the message of what this industry is all about.
Watch this episode on YouTube here.
The Pile of Scrap Podcast is available on Apple Podcasts, Spotify, and Google Podcasts. Be sure to Subscribe, Rate, and Review Pile of Scrap.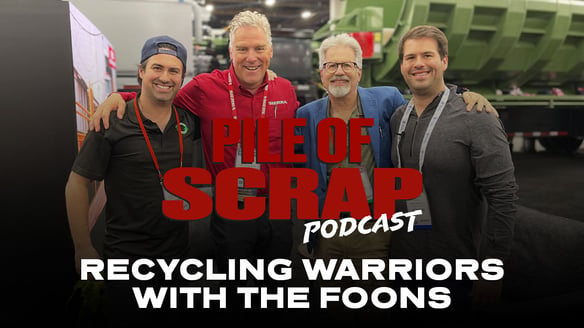 Mikey Foon, John Sacco, Steven Foon, and Elliott Foon
---
Transcription
Coming Soon